Applications are now closed.
Strong encryption is a fundamental part of how we remain safe online and offline. It means people can communicate with others safe in the knowledge that no-one is listening in or tampering with their messages. 
Despite this, governments around the world are increasing their attacks on end -to-end encryption (E2EE). Governments view E2EE as a hurdle for law enforcement agencies. But systematically weakening people's digital safety is not the answer.
End-to-end encryption is the gold standard of security in a world where daily life is increasingly online. We need to push back against government efforts to undermine E2EE.
To celebrate Global Encryption Day (October 21), we will join our efforts to protect end-to-end encryption and defeat any proposals that undermine it. We've already shown how attempts to create backdoors in end-to-end encryption weaken security. Now we need to stop the other shortcuts that governments are suggesting.
End-to-end encryption protects us all – we need to protect it!
Funding
The Internet Society Foundation, in partnership with the Internet Society, will distribute fifty (50) mini-grants of $1,000 USD to members of the Global Encryption Coalition for activities that support and celebrate Global Encryption Day.
Eligibility Criteria
The activity/event must be held as part of the Global Encryption Coalition's Global Encryption Day (October 21, 2023). Activities/events may be held October 5th-October 21st, 2023.
Mini-grants are limited to one per GEC member.
Applicants must have an official bank account that can accept money from a U.S. entity in their name (based on their legal registration) to be eligible for a grant.
Grantees will be required to supply a brief report via our grant management system, called Fluxx, to the Internet Society Foundation, outlining a summary of the event, attendance, and relevant quotes.
Grantees will also be required to consent to the event being posted on the Global Encryption Coalition Master Calendar unless it is a closed event.
Application Process
The 2023 Encryption Day Grant applications will be accepted from August 1 through September 11, 2023. Applications are reviewed on a rolling basis by Internet Society staff to determine whether they meet the eligibility requirements and are appropriately aligned with Global Encryption Day. We encourage applicants to apply early as funds will be distributed on a first-come, first-served basis.
How To Apply
Applications must be submitted online using Fluxx, the Internet Society Foundation's grant management platform. Only applications submitted online via Fluxx will be considered.
Incomplete applications or applications that do not meet eligibility requirements will not be considered.
You must create an account, if you don't have one already, in order to apply. Please visit https://isocfoundation.fluxx.io/user_sessions/new to get started or to log into an existing account.
After you login to Fluxx, choose "Application & Grants Portal" from the menu on the left. Scroll down to "2023 Encryption Day Grants" and select "Apply Now", as shown in the screen shot.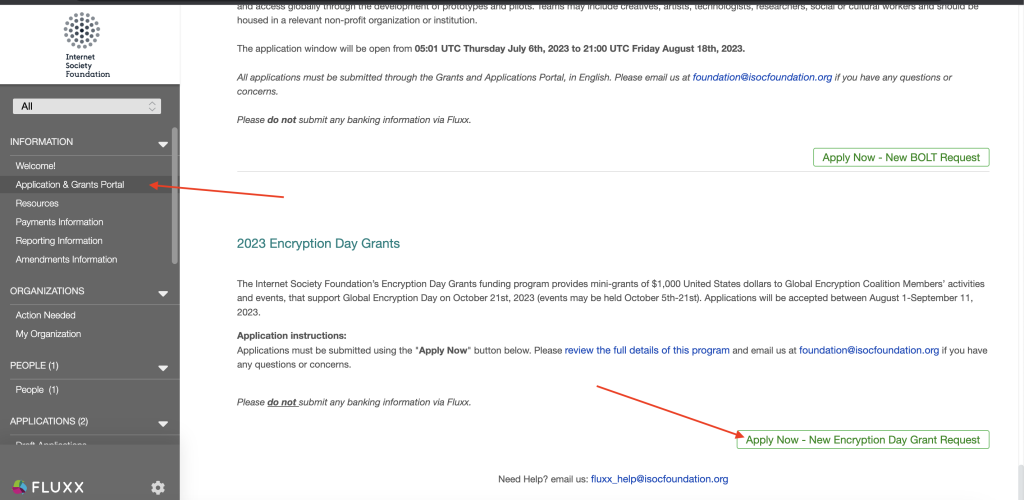 Reporting
Within four weeks after your event has occurred, Encryption Day grantees are required to submit a short report directly to the Foundation via Fluxx.
Questions?
If you have questions about this program or the application process, contact us at [email protected].
If you'd like to learn more about Encryption, the Internet Society provides an online course to anyone interested in this topic.